New Products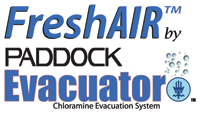 If you ever spend any time in an indoor pool, then you have experienced the discomfort of burning eyes, smelly pool air, respiratory irritation or even coughing fits. These problems are caused by Chloramines in the pool air.
In response to this problem, Paddock Pool Equipment Company has engineered a cutting-edge solution to chloramine problems with their new Evacuator™. The Evacuator™ clears chloramines out of the air and exhausts them out of the facility providing "FreshAIR™" for all pool users.
Paddock Swimming Pool Company
Commercial swimming pool design, construction, and renovation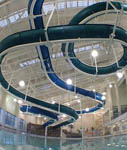 Paddock has provided quality design and construction services for the commercial pool industry since 1947.
Paddock has expertise with community pools, competition pools, leisure pools, water parks, specialty pools, and unique watershape projects.
Paddock has always been an innovator in pool design and construction and continues to utilize the latest technology in pool structures, finishes, and features.
Our team adds value to your pool project with design expertise, in-house Autocad drafting, and experienced on-site supervision.
Paddock Swimming Pool Company provides commercial swimming pool construction, design, and renovation services throughout Maryland (MD), Virginia (VA), West Virginia (WV), Delaware (DE) and the District of Columbia (DC).
Address: 15120-C Southlawn Lane Rockville, MD 20850
Licensed in MD, VA, WV, DE and DC (including DC Apprenticeship Certification)

Maryland:

15152913

Virginia:

2701002811 A

West Virginia:

WV021181

Delaware:

2002103299

DC:

70104639 (DC Apprenticeship Certification #91551)